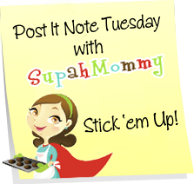 This is my first week linking up to Post-It Note Tuesday over at Supah Mommy. What do you write?
As Supah says,
Why bother spewing verbal vomit when you can sum it all up in one neat little post it note?
They can be fun, lighthearted, notes to self, to do lists or just plain bitch notes left for others. Your choice. Get creative.
Want to get in on the action? Click on her button above!