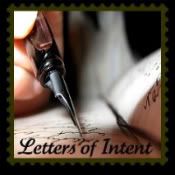 As usual on Fridays, I'm linking up with Foursons for Letters of Intent. Check out the other letters and write one of your own!
Dear USA Network,
I know you have to make movies fit into the alloted time you have but do you really have to cut the funny parts out? Like when Nick Cage sticks his hand in between the rocks in National Treasure 2: Book of Secrets and pretends like something eats him? That's a good part! Ugh.
Sincerely,
Stop Cutting Out the Good Parts
Dear People Who Take Care of My Child,
When I tell you that she doesn't sweat and it's very dangerous for her to overheat, please believe me. I'm not an over-protective, hypochondriac mom who is just trying to give you a hard time. I mean, really... Don't make me pull the 'she will die' card on you because I really hate to do that.
Thanks for paying attention,
Mommy
Dear World,
Randi is not old. She is not closer to 40 than 50 (Though she is closer to 50 than I am. I'm just speaking the truth, Randi.). She does not have one foot in the grave and she's not interested in the sexy mature singles with whom Match.com would like to pair her. She is, however, an awesome person, amazing mom, and super friend. Even if she does wear Gloria Vanderbilt jeans.
xoxo,
Sam
Dear Morning Run,
Why are you so elusive? Always just a little out of reach, I miss you each morning. One day we will have our time in the sun. One day.
Love,
Soon-to-be Running Princess