Have you missed me?
Well, I'm back and better than ever! Not only am I back, but I have some pretty spectacular news. No, not the fact that the Real Housewives of NJ is back on TV (As of tonight. Yes, I know you're excited. I am, too.). My big news is the AMAZING giveaway that I'm a part of this week! I can't wait to Party Like It's 1999!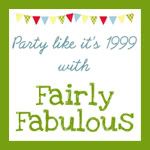 So, you're excited, right? Well hold on to your underpants, you're about to get even more excited; there are other giveaways, too! Yup, Meagan, the fabulous host of
Fairly Fabulous
, is hosting an amazing giveaway every day for SEVEN days, starting on Thursday! Check back every day to see what's on the giveaway block, but more importantly, enter MY giveway! Enjoy and may the force be with you!