For the first time in a very. long. time. I'm linking up to
Letters of Intent
at
Foursons
. Oh, how I've missed you, LOI.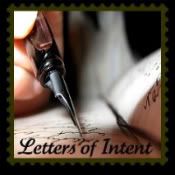 Dear Monkey Princess,
Do you think you could keep taking a nap through, oh... say, your teen years? Mama's not a fan of this 'let's not nap anymore' phase and it's really cutting into my personal naptime.
Thanks so much,
Sleeping Beauty
Dear Karma,

Now would be a great time to bite some select people in the a$$. I am not one of those people. Just sayin'.
Sincerely,
Doesn't he need a reminder that Karma's a b*tch?
Dear Bloggy World,
Oh, how I've missed you! I think a Lenten FaceBook sacrifice was exactly what you and I needed. Let's keep writing together.
xoxo,
The girl behind the profile
Dear Alarm Clock & Small Child Down the Hall,
What do you say we all sleep in tomorrow morning? Mommy stayed up a wee bit too late tonight blogging.
Love,
Mommy's REALLY going to need a nap tomorrow